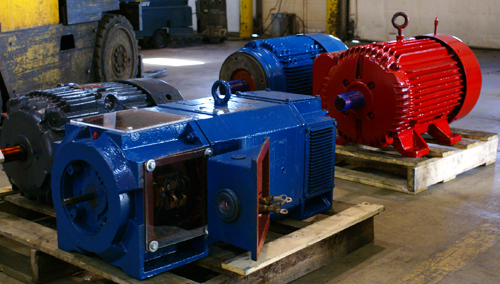 With plant shut downs quickly approaching, it is crucial to take a deeper look into your critical motors going into the new year. We are very fortunate to share a roof with our sister company, Whelco Industrial, who specializes in motor repair and mechanical services. Whelco Industrial is truly your #1 source for Cradle to Grave repair. From predictive, to preventative, all the way to corrective; we have you covered!
Lets focus in a little more on the support we look forward to providing this shut down season!
Vibration Analysis
Vibration Analysis is one of the most common forms of predictive maintenance and a vital way to determine the heath of your motor. Whelco's field service technicians utilize advanced test equipment and are category 1 and category 2 certified, providing you with the best results. Use this resource to detect potential failures in your equipment!
PDMA Full Motor Circuit Test
Whelco Industrial's MCEMax equipment provides the ability to test your critical motors online or offline. Testing crucial areas such as power quality, stator, air gap, rotor, insulation, and the power circuit is something you don't want to ignore! We'll generate detailed reports to provide you an in depth look at your equipment. Reduce unexpected failures, reduce repair costs, budget/plan your maintenance, and INCREASE OVERALL PLANT RELIABILITY!
Field Balancing
One of the most common causes of failure in electric motors is motor imbalance. Imbalance creates excess vibration causing failure. Some benefits to dynamic field balancing is increased bearing life, decreased noise levels, less structural stress, low operational costs , and increased productivity. Therefore, Whelco will ensure your equipment runs at optimal levels.
Laser Alignment
Whelco Industrial has the capability to perform laser shaft alignment in order to reduce your downtime, reduce maintenance costs, and increase machinery life. Effects of misalignment include bearing failure, elevated temperatures, excessive vibrations, and loose bolts. Protect your assets and maximize production with the assistance of our team!
DC Brush Maintenance
In addition, Whelco technicians can perform a thorough inspection of the brush wear pattern and condition of the commutator. It is critical to determine acceptable commutator conditions within normal machine operation, and destructive commutator conditions that will inhibit equipment life and efficiency.
Bottom line is we all understand time is money and when your equipment fails unexpectedly, thousands of dollars could be lost. Don't let this happen when there are solutions out there! Contact Whelco Industrial for a quote on any of our services! We will make sure we can keep your equipment in good health allowing you to maximize your production and profits!!