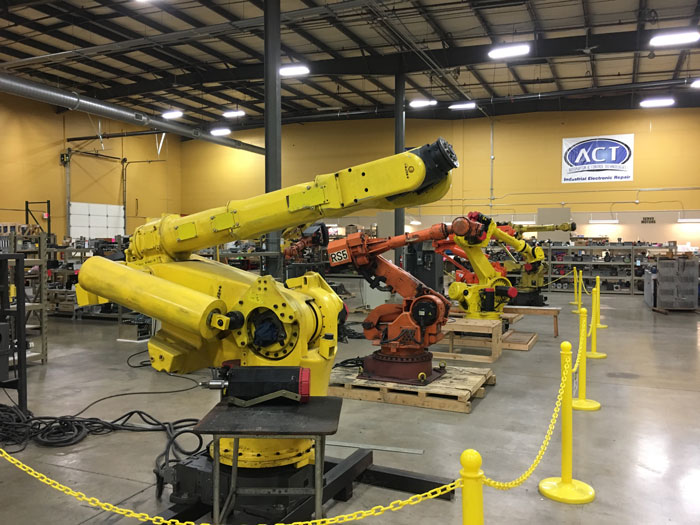 Automation & Control Technologies, Ltd. was formed when the electronic, servo motor, hydraulic and welding repair services of Whelco Industrial, Ltd. were established as a separate entity to efficiently meet our customers needs. Our technical team has over 100 years of combined experience, and many of our techs have 15 years or more of industrial electronics and hands-on application experience.
Electronics Repair

Our extensive Electronics lab can repair Robotics, Light Curtains/Scanners, Operator Panels/HMI, PLCs, Power Supplies –- just to name a few.

Welding Equipment Repair

We are an Authorized Warranty Repair Center for Miller & Lincoln welders, but we also repair numerous other brands of welders.

Hydraulics / Mechanical Repair

Hydraulics / Mechanical Repair

We can take care of all your hydraulics including valves, cylinders & pumps.
"Thanks for getting Phil's machine going. He is very happy! I am glad your company was able to shine on this one."

– Gary B., TE Connectivity

"In regards to the Magswitch Actuator your shop repaired for us. As for my understanding your tech spent time on it and determined that it was still under the OEM warranty. Doing so, it saved us money in the long run. I am confident that I can recommend ACT for ethics, quality work and high standards in their field."

– Chris Steffe, Lead Maintenance, Dexter Axle

"We will definitely keep ACT in mind when we may need future repairs and/or maintenance on our presses and equipment. Dan did a great job for us. I know that the repair job was not an easy diagnosis and fix, but we were very pleased with the outcome once Dan was done. It was somewhat difficult finding a quality repair outfit at reasonable pricing. We would definitely recommend ACT to any other companies in our shoes. In fact, if you would like a customer testimonial from us, I would be happy to oblige."

– Jeff Valiton, VP of Operations, American Power Pull

"ACT has been a great resource for the Dover products plant. The communication is clear and consistent, the lead times are accurate, and the quality is as well. It has been a pleasure doing work with ACT and will continue to be."

– Rick Engelhardt, General Electric Co. (Dover)

"Recently Automation Control Technologies performed a rush turnaround repair on a Pathfinder controller for a Van Dorn injection molding machine for us at TH Plastics Inc. Our injection molding machine was down with no back up parts for this controller that is no longer supported by the manufacturer. The Team at ACT picked up the malfunctioning OP station at our plant in Michigan, delivered it to the repair facilities in Ohio, repaired it and rushed it back to us to get our machine running production in a two day time span."

– Mark Lewis, Maintenance Manager, TH Plastics Inc.

"I would like to say thank you for all your help with our brake resistor module Monday, it is nice to know we have people who we can count on. "

– Dave Hoke, Parts Coordinator, Green Bay Packaging Fremont, Ohio

"My experience with both the salesperson and their shop repairs is positive. Both groups are very concerned to resolve any quality, delivery, and cost issues. As long as the key metrics of cost, delivery and quality continue at the positive level, we will continue to have a strong business relationship in the future."

– Gregory E., Contract Maintenance Supervisor, Johnson Controls Inc.

"We got the drive last night... installed and running without issue by 5:30PM. You and your team did a fantastic job!! Thank you!!"

– Troy J., Pro-Pak Industries