Brian Conaway is set to become ACT's new Fluid Product Service Manager!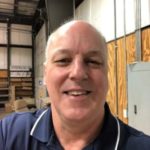 Automation & Control Technologies is extremely excited to welcome Brian Conaway to our team! Brian is bringing over 30 years of experience in the hydraulic repair business and we are thrilled about the value he will be adding to our company.
Brian began his work with Perfection Servo Hydraulics in 1988, starting in shipping and receiving. After only a few short months, he would go on to become servo tech 1. Here his responsibilities included the evaluation of servo/proportional valves, inventory control, as well as generating reports for repaired items. Brian would very quickly be promoted to servo tech 2 and 3. Because of this, his duties were constantly changing and evolving. duties would range from training others, getting involved with customer relations, and assisting departmental issues. Brian truly had a hand in everything. Seeing his consistent movement up the ladder at Perfection Servo is a strong testament to his work ethic and commitment.
In October of 2016, Brian decided to end a great run with Perfection Servo and take his talents to Universal Servo Group in Georgia to become their Senior Servo Valve Technician. As a result, he was introduced to the Dietz Automation Valve Expert 1.4 testing equipment. This allowed him to really take his skills to another level. At the end of 2016, Brian was able to construct a hydraulic power unit and a servo/proportional valve test stand!
As Brian begins with us, he will be focusing on the repair of servo/proportional valves along with the training of others on the repair of a wider range of hydraulic pumps and cylinders.
Outside of work, Brian enjoys working out, biking, swimming, and golfing! Being from Columbus and having family in Cincinnati, it's safe to say he is very familiar with the Midwest. Most importantly, Brian is a total family man and loves spending time with his son Christopher and daughter Cara.
With Brian's 30 plus years of experience, there is no doubt he will take our hydraulic repair business to new heights while also growing alongside the ACT family!